---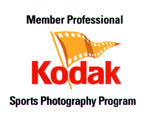 Wilson Gallery is proud to announce a new addition to our currently popular Sports Photography Program.
For twelve years, Ray Wilson Sr. has proven himself as being a respected sports action and portrait photographer in eastern Ohio.
He has performed assignments from Columbus, Ohio to Wheeling, West Virginia and from Cleveland, Ohio to Parkersburg, West Virginia.
Recently, Ray Wilson has been accepted as a "Member Professional Kodak Sports Photography Program".
Ray is now offering his professional photography services to the public. For a small fee, you can hire Ray to photograph your son(s) or
daughter(s) in action. Motorcycle racing, wrestling, baseball, football, track, basketball, volleyball, golf, whatever sport they maybe involved in,
we can capture him and/or her in action. This is something they and youself will cherish for years.
For more information, please contact Ray or Colleen at:
Wilson Gallery
138 East 3rd Street
Uhrichsville, OH 44683
Phone: 740-922-9648
My Email is: